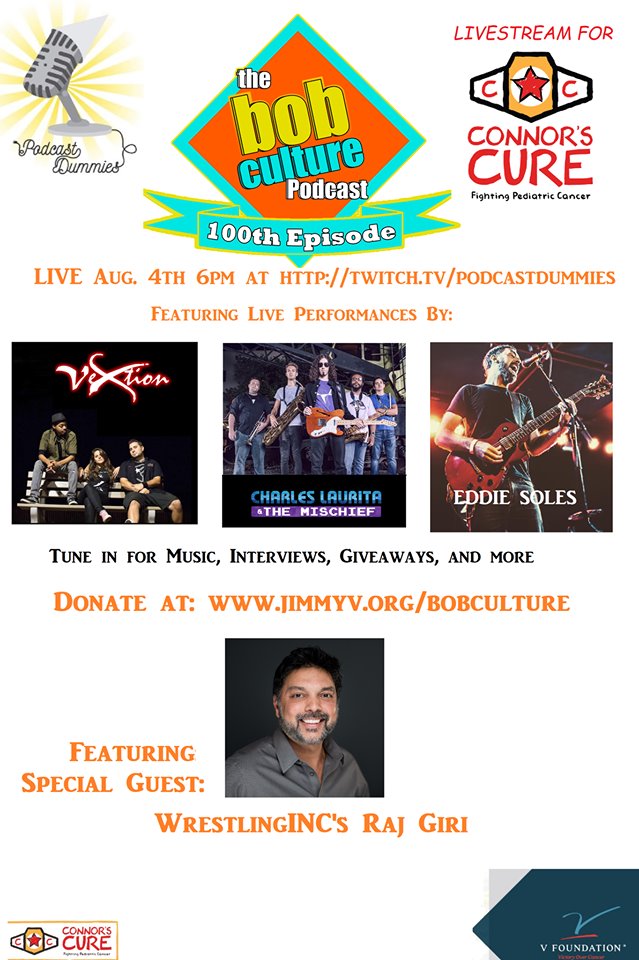 Our Live #BCP100 Episode for Connor's Cure was a complete success featuring live music, giveaways, interviews and more!! 
The stellar event is dedicated to fighting Pediatric Cancer and we'll be raising funds through Aug. 7th at http://www.jimmyv.org/bobculture
Tune in for Live Performances from Vextion, Eddie Soles, and Charles Laurita & The Mischief !!  Also featuring Summerslam Predictions, Fantasy Football
Picks, and an interview with WrestlingInc's Founder/Managing Editor, Mr. Raj Giri!  Check out our biggest show date and donate a few bucks for a great cause and a chance at some great prizes!! 
"The Rock" Intro & Vextion - 0:00
Raj Giri Interview:   0:06
Summerslam Predictions:  0:22 
Eddie Soles:    0:32
Charles Laurita:  0:54
Fantasy Football Picks 1:13
Closing Performance: 1:56