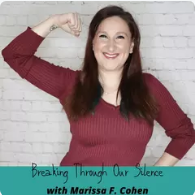 "The darkest time is the most dangerous time, and it's also the time you need people the most." - Marissa F. Cohen 
Multiple time Amazon Best Selling Author, Host of the Breaking Through Our Silence Podcast, and abuse survivor, Marissa F. Cohen joins the podcast with some helpful tips for abuse victims who may be stuck in quarantine right now.  Marissa also shares tips on communication, seeking help, re-gaining self confidence and much more!!  Tune in!!
Marissa's Contact and Resources:
Breaking Through the Silence: The Journey to Surviving Sexual Assault https://www.amazon.com/dp/1979272360/ref=cm_sw_r_cp_api_i_iJ8JEb22HSYYM
Tunes Provided By Roulette 
Tunes provided by Roulette
Support the BCP on Patreon! 
https://www.patreon.com/bobculturepodcast
Thank you Mike and Michelle from Sledgepad LLC, JayCrow, and Shannon Krus for being Patrons!! 
Follow the BCP on Facebook & Twitter: @bobculturepodcast