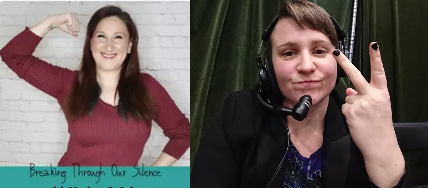 In this week's edition of the BCP/Breaking Through Our Silence Team Up we talk to Indy Ring Announcer and Commentator, Miss Risa Pappas.
The Wrestling World is taking a bold turn towards #SpeakingOut! It's difficult to be heard, especially in the wake of abuse. For fear of losing their dreams by speaking out, most Champions of abuse have been silenced to maintain their status in the industry. But not anymore. Everyday, more and more Champions are #SpeakingOut about the harassment and assault they've faced from promoters, wrestlers, managers, etc.
Teaming up with The Breaking Through Our Silence Podcast, we are ready to help the Champions of Abuse in the wrestling world, by supporting them and empowering them to #SpeakOut about their abuse! Make Wrestling Safe for Everyone!
Tunes provided by Roulette
Support the BCP on Patreon! 
https://www.patreon.com/bobculturepodcast
Thank you Mike and Michelle from Sledgepad LLC, JayCrow, and Shannon Krus for being Patrons!! 
Follow the BCP on Facebook & Twitter: @bobculturepodcast
Thank you for listening, and supporting Champions of Abuse!
For more episodes of Breaking Through Our Silence, the podcast, visit : https://marissafayecohen.podbean.com/
Also streaming on : Stitcher, Youtube, Spotify, iTunes Podcasts, Google Podcasts, iHeartRadio, & Hubhopper!
Follow Marissa on Social Media :
facebook.com/marissafcohen
Breaking Through Our Silence FB Group : https://www.facebook.com/groups/3235213043163748/
Insta : @Marissa.faye.cohen
Twitter : @MarissaFCohen
Website: www.marissafayecohen.com
Produced by : Bob Culture Podcast and Rob Crowther
Like, Rate, and Subscribe to Breaking Through Our Silence wherever you listen to get the newest episodes and updates!