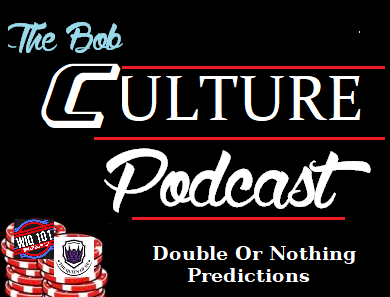 "If you're just paying attention to the action in the ring, you don't even notice that there's not a crowd there. AEW has been so smart with that."  - Derrick Gamble 
It's time for our AEW, Double or Nothing Predicitions Show featuring our ALL ELITE panel!! We're joined by The Queen of NE, The Pop Break's Bill Bodkin, and Wrestling IQ 101 's Derrick Gamble to talk the full card for this year's annual AEW PPV.  Tune in for in depth picks and tunes from Damn Nation.
Follow Damn Nation on Spotify: https://open.spotify.com/artist/47BeGc5LwTN4MyWE6m0gzE
@TheQueenofNE @WrestlingIQ101 @BodkinWrites
Support the BCP on Patreon! https://www.patreon.com/bobculturepodcast
Thank you Mike and Michelle from Sledgepad LLC, JayCrow, and Shannon Krus for being Patrons!! 
Follow the BCP on Facebook & Twitter: @bobculturepodcast