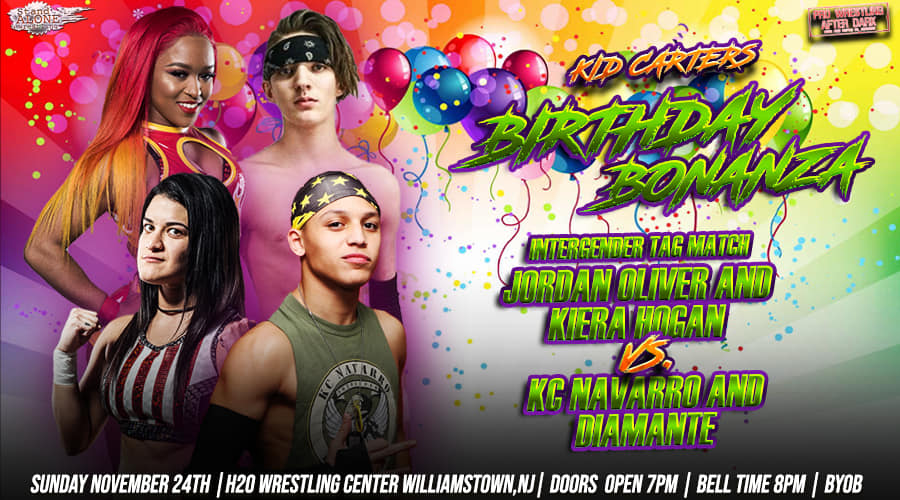 "We had a ton of positive feedback from everybody. From people we didn't know, to our peers to our co-workers.  We couldn't have been happier with the response that we got, especially from the LGBTQ outlets. Especially Out Sports who supports all the time. They write about us all the time and show us love.  We have a ton of support in the community and from the wrestling community in general.  It's just crazy how many people we actually touch by professing our love for each other and being ourselves."   - Kiera Hogan on her Coming Out Party 
It was an absolute honor to talk with three of the best in the business today, W.O.W Tag Team Champions, Kiera Hogan & Diamante, and WHAT! Champion, KC Navarro at Kid Carter's Birthday Bonanza. The Ladies of Adrenaline and Fire talk about their big title win, dream opponents, and the response to the coming out party.  KC talks about coming back from injury and targeting the X-Division Title.  Tune in!!
Follow          Kiera Hogan @Hoganknowsbest3
                   Diamante @DiamanteLAX
                   KC Navarrao  @ KCwrestles
Thank you Mike and Michelle from Sledgepad LLC, JayCrow, and Shannon Krus for being Patrons!! 
Follow the BCP on Facebook & Twitter: @bobculturepodcast